General Billy Mitchell Biography
---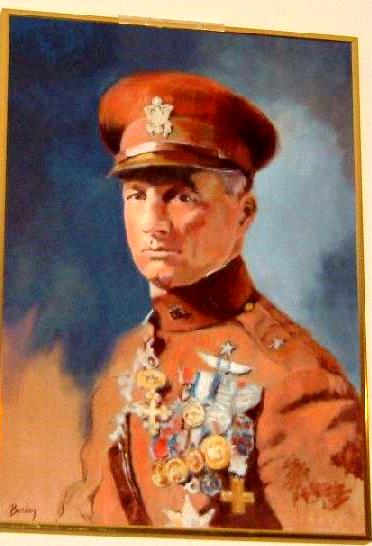 ---
General Billy Mitchell Post 85 is named for General Billy Mitchell, the man considerd to be the father of military aviation.
William Lendrum "Billy" Mitchell (December 28, 1879 – February 19, 1936) was a United States Army general who is regarded as the father of the U.S. Air Force. He is one of the most famous and most controversial figures in the history of American airpower.
Billy Mitchell's name conjures up different and mostly stereotyped images. For those with an interest in airpower, it brings to mind the visionary who sank battleships and paid the price for defying the War Department. Unfortunately, for far too many, the name Billy Mitchell is associated only with a grainy black-and-white movie showing Gary Cooper fighting a court-martial.
Brig. Gen. William L. Mitchell deserves better than this. So great was his impact on the Army Air Service and its successor organizations that the effect is still being felt. During Mitchell's meteoric military career, he charted new paths, set new standards, and influenced key leaders for decades to come. Mitchell was twenty years ahead of his time when he put forth his detailed vision of a hazardous future. More important, he knew that airpower was the answer to overcoming the danger. His impassioned campaign to tell his story had a quadruple-barreled impact on the modern Air Force, past, present, and future.
Billy Mitchell was born into privileged circumstances in Nice, France, on December 29, 1879. His father, John L. Mitchell, became a US senator and would quietly smooth the way for his impetuous son's early military career. Billy Mitchell graduated from Columbian College of George Washington University, where he was a member of the DC Alpha chapter of the Phi Kappa Psi Fraternity. He then enlisted as a private at age 18 during the Spanish American War. Quickly gaining a commission due to his father's influence, he joined the U.S. Army Signal Corps. Following the cessation of hostilities, Mitchell remained in the army.
He predicted as early as 1906, while an instructor at the Army's Signal School in Fort Leavenworth, Kansas, that future conflicts would take place in the air, not on the ground. Billy Mitchell immediately got on the fast track by demonstrating his leadership and organizational skills in the Philippines and Alaska. Without a contracting officer's warrant, he managed to spend $50,000 of US government money to build a telegraph line across Alaska--on an authorized budget of $5,000. The overrun must not have hurt Mitchell; he came back a captain at age twenty-three, the youngest in the Army.
At thirty-two, Mitchell became the youngest officer ever appointed to the Army General Staff. While in Washington, he felt the first attraction to aviation, seeing in it the future for his country and, not incidentally, for himself. In 1908, when a young Signal Corps officer, Mitchell observed Orville Wright's flying demonstration at Fort Myer, Virginia.Paying for his own flying lessons, he learned to fly in four Sunday sessions at the Curtiss Flying School, Newport News, Va., in 1915.
Mitchell's flying catapulted him to prominence, and he became deputy chief of the Signal Corps Aviation Section in 1916, with the rank of major. This was his ticket to the top. He wangled his way to France as a military observer in March 1917. When the US declared war on Imperial Germany the next month, he soon established himself as the premier US aviation officer in France. He was promoted to lieutenant colonel in May and to colonel in August 1917 and received a rating as a Junior Military Aviator without the normal testing process.
Fluent in French, unlike most of his colleagues, Billy Mitchell became a master networker-cementing ties, obtaining resources, making friends, and pledging help.
Mitchell commanded 1,476 aircraft and twenty balloons, assembled from 101 American, British, French, and Italian squadrons, in the greatest air offensive of the war, the battle of Saint-Mihiel.
By the conflict's end, Mitchell commanded all American air combat units in that country. Recognized as one of the top American combat airmen of the war alongside aces such as Eddie Rickenbacker, he was probably the best-known American in Europe. He was awarded the Distinguished Service Cross, the Distinguished Service Medal, the World War I Victory Medal with eight campaign clasps, and several foreign decorations. Despite his superb leadership and his fine combat record, he alienated many of his superiors during and after his 18 months in France.
After the war, he was appointed deputy director of the Air Service and began advocating increased investment in air power, believing that this would prove vital in future wars. He argued particularly for the ability of bombers to sink battleships and organized a series of bombing runs against stationary ships designed to test the idea.
In 1924, Mitchell was dispatched on an inspection tour to Hawaii and Asia. He came back with a 324-page report that predicted future war with Japan, including the attack on Pearl Harbor.
He antagonized many people in the Army with his arguments and criticism and, in March 1925, when his term as Assistant Chief of the Air Service expired, he reverted to his permanent rank of Colonel and was transferred to San Antonio, Texas, as air officer to a ground forces corps.
Later that year, he was court-martialed for insubordination after accusing Army and Navy leaders of an "almost treasonable administration of the national defense." He resigned from the service shortly afterward.
In 1926, Mitchell made his home with his wife Elizabeth at the 120-acre (0.49 km2) Boxwood Farm in Middleburg, Virginia which remained his primary residence until his death in 1936
Mitchell received many honors following his death, including a commission by President Franklin Roosevelt as a Major General. He is also the only individual after whom a type of American military aircraft, the B-25 Mitchell, is named.